In August 2021, with the acceptance and commissioning of the 5th LandGlass' glass tempering furnace at Jin Jing's production base in Penang, Malaysia, the production base has become the largest photovoltaic glass production base in Southeast Asia. It represents not only the strategic transformation of Jin Jing from the construction industry to the photovoltaic industry, but also an important measure of Jin Jing in response to the trend of green energy development and applications and to seize the opportunities of the times.
Since the unveiling of carbon peaking and carbon neutrality goals, green energy, energy conservation, and emission reduction have become the core words in the enterprise development strategy. As energy-intensive industries, glass production and processing have encountered unprecedented emission reduction requirements and energy-saving challenges. Being the industrial leader in the R&D and manufacturing of glass tempering machine, LandGlass has introduced two leading technologies in recent years that can help the glass processing enterprises to improve efficiency and reduce energy consumption: The Turing2.0 intelligent glass tempering control system can automatically adjust and optimize the tempering process parameters to generate the best manufacturing data required. The system reduces the time and costs spent on product switching, commissioning, and trial runs. It ensures the quality of tempered glass while lowering the energy consumption in production. LandGlass' TIGER™ smart factory achieves energy consumption reduction by improving loading and operating efficiency. Furthermore, compared with traditional factories, the smart factory greatly reduces the need for staffing, floor areas, and peripherals. It improves both production efficiency and energy efficiency in all stages. Taking a small to medium-sized traditional glass processing enterprise with an annual output of 800,000 square meters as the example, when it is upgraded to a smart factory model, based on a 12-hour shift system, the annual savings from reduced energy consumption and other costs can be nearly 3 million yuan.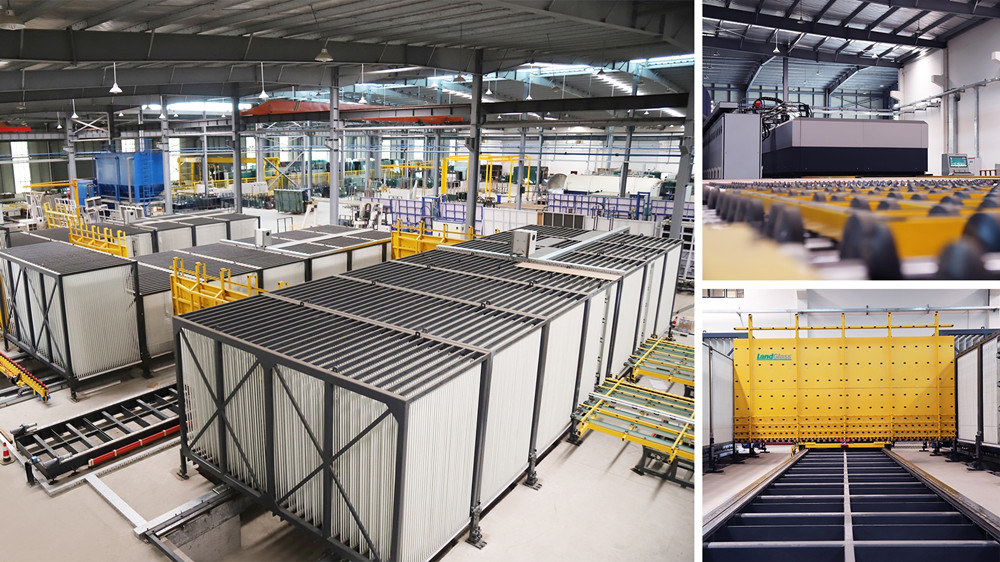 To achieve the goal of carbon peak and carbon neutrality remains a long-term and arduous task. In addition to the energy-saving measures of glass production and processing enterprises, it relies more on the R&D breakthroughs in the machine manufacturing industry. In the current trends towards "Energy Conservation and Emission Reduction" and "Dual Control System of Total Energy Consumption and Energy Intensity," LandGlass will continue to adhere to its innovation-oriented strategy and offer state-of-the-art glass tempering machine and solutions to help glass processing enterprises in their endeavor to achieve better quality and higher energy efficiency!