The "Belt and Road" refers to the Silk Road Economic Belt and the 21st-Century Maritime Silk Road respectively. As a national strategy promoted at the highest level, Chinese "One Belt, One Road" initiative has great and far-reaching strategic significance for the country's modernization and establishment of its leading standing in the world. While LandGlass is one of the industrial leaders in glass processing field in China, it has launched its own "Go West" journey for long, bringing its glass tempering furnaces to the regions and countries along the Silk Road.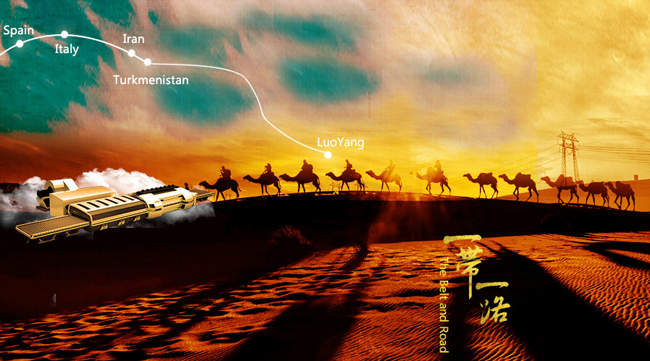 As is known to all, the "Belt and Road" begins in China before stretching westwards to most of European areas through Central Asia, Southern Asia, and Western Asia. So, let's walk through this path together and enjoy the "Scenic Sites of LandGlass" on this road.
(I) Xi'an, China
Xi'an, a gateway city China' s western region, is the starting point of the land-based Silk Road. Located in the state-level Jinghe National Development Zone, Shaanxi Lian Chuang Glass Engineering Co., Ltd. is a vertically integrated large-scale glass processing enterprise.
During the period from 2013 through 2017, the company acquired successively from LandGlass three glass tempering furnaces. All the furnaces they purchased are the ones using JetConvection technology. Through a heating system consisting of high temperature convection blower and convection box in its heating chamber, the furnace applies high temperature air jets vertically on both top and bottom surfaces of the glass sheet via a quick and even heating process to guarantee the excellent quality of the tempered glass products. The company's products are now sold in the market covering Xi'an and the provinces and cities in the surrounding areas, widely being used on local landmark buildings. One day, when you walk down the street, the glass that reflects your great figure is most likely a product made by LandGlass tempering machine.
(II) Lanzhou, China
After the Xi'an stop, we continue our journey to Lanzhou, the capital of Gansu province and an important site along the land-based Silk Road. Lanzhou Deao Aluminum and Plastic Fenestration Co., Ltd. is a fenestration manufacturer well-known in Gansu province.The company is equipped with a LandGlass AB series Flat and Bent Bi-directional glass tempering furnace. This model has a flat and a bent quenching section on each side of the heating furnace. Through different loading inlet, the glass tempering machine can temper both flat and bent glass. Since one furnace fulfills the requirements for two different types of glass processing, it makes top quality tempered products while effectively reducing the production cost and space requirement.
(III) Qinghai, China
After leaving Lanzhou and continuing our "Go West" trip, there is a place that has to be mentioned. That is Qinghai province located on the north-eastern part of the Qinghai-Tibetan Plateau. Despite the harsh climate conditions in a high altitude environment, LandGlass' tempered glass machine can still be found in the region.
As one of the pioneer enterprises in Qinghai, Qinghai Glass Co., Ltd. is the first company that acquired a glass tempering furnace in the province. Their solar PV glass factory filled the gap of lacking PV glass manufacturing capacity in the six northwestern provinces. Walking into the neat, spacious workshop, you will see LandGlass Combined Flat Glass tempering furnace immediately. The furnace has two heating sections, allowing easy adaptation of heating modes to various process needs. Thus, in actual practice, the customer can significantly reduce defects such as optical distortion, spherical bending, hot spots, and white haze through proper settings of temperature gradient in heating section to optimize the quality of tempered glass. In addition, when combining the two heating sections to work as one unit, the furnace can effectively temper extra large glass.
Now, starting from Xi'an, we have visited three LandGlass' customers that have distinctive characters and are equipped with three different series of LandGlass glass tempering furnaces along the "One Belt, One Road" path in China. Next, we will go abroad, extending our journey through Central Asia, Southern Asia, Western Asia to European regions, and unveil more of "Scenic Sites of LandGlass" overseas. Please stay tuned.